Superhuman Athlete Pass
Superhuman Athlete Pass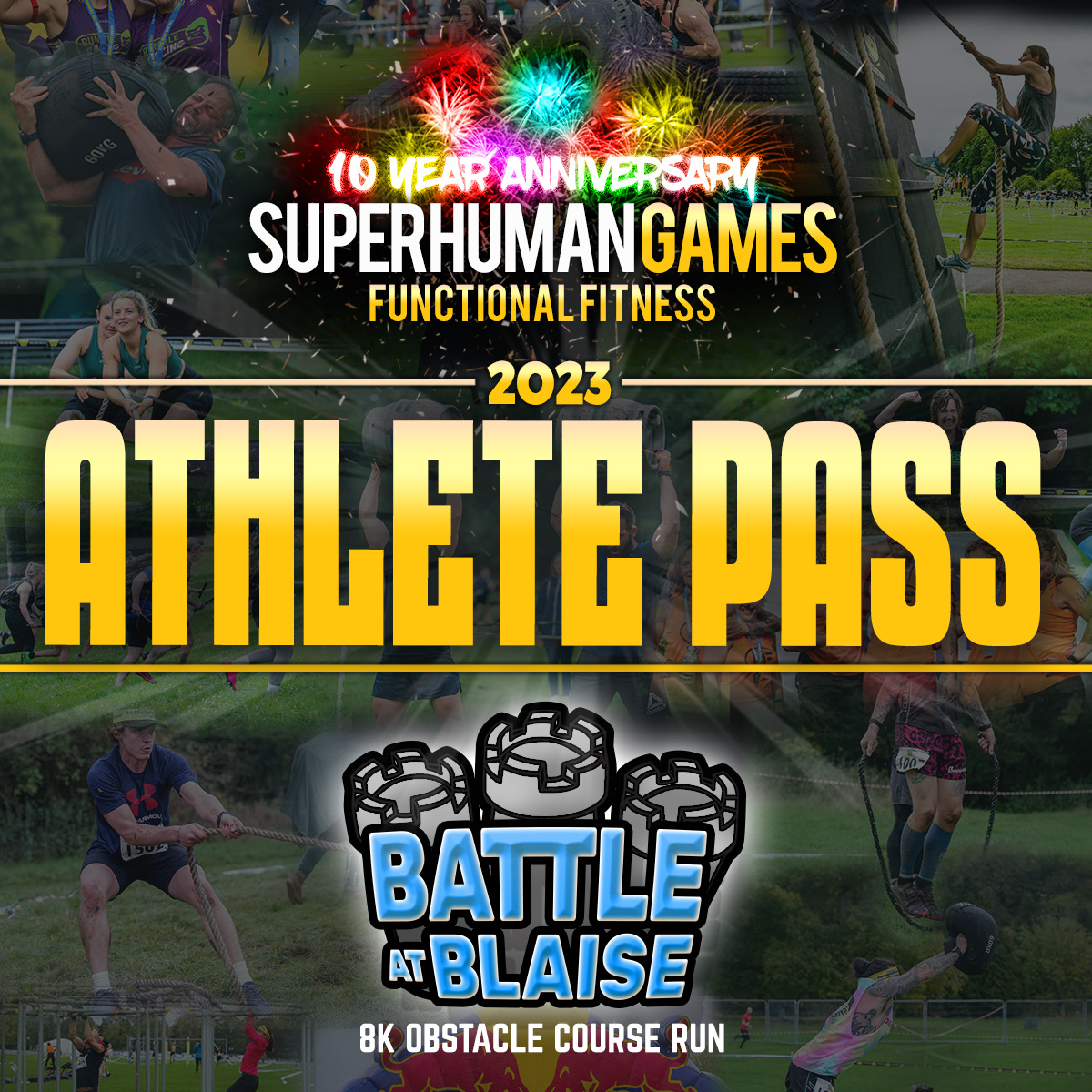 Combo Ticket
Purchase includes registration for -

---
Superhuman Games
Saturday 10th June 2023
---
Battle at Blaise
8k Obstacle Course Race
OR
16k Obstacle Course Race
Saturday 23rd September 2023
Signup -
£125 Games and 8k OCR
£130 Games and 16k OCR
Sign up to our 2023 Superhuman Athlete Pass to enter both the Superhuman Games and Battle at Blaise in 2023, all for a discounted price!
With the 2023 Superhuman Athlete Pass, you'll get entry to:
1) Superhuman Games
Saturday 10th June 2023
The 10 year anniversary of our original outdoor functional fitness endurance challenge!
5 challenges
Strength & Honour - Brutal Beat Down - Unconventional Beast - VO2 Max - The Assault Course
Entry Categories
Mixed Teams of 4 (2 Men / 2 Women)
- Open (combined age of 152 or below)
- Masters (combined age of 153 or above)
Same Sex Pairs
-Open (combined age of 70 or below)
- Masters (combined age of 71 to 84)
- Vets (combined age of 85+)
Mixed Sex Pairs
-Open (combined age of 70 or below)
- Masters (combined age of 71 to 84)
- Vets (combined age of 85+)
Location: Greville Smyth Sports Ground, Ashton Road, Bristol, BS3 2EQ
2) Battle at Blaise Obstacle Course Race
Saturday 23rd September 2023
Returning for its second year... Battle at Blaise OCR is a truly unique experience as trail running meets obstacles and primal fitness in an epic endurance challenge over multiple distances!
Route Options
8k Obstacle Course Race
16k Obstacle Course Race
Entry Categories
Individuals (male competitive heats)
Individuals (female competitive heats)
Individuals & groups (just for fun)
Location: Blaise Castle Estate, Kings Weston Rd, Bristol BS10 7QS
Please note: As well as entry to Superhuman Games, you can select whether to sign up for either the Battle at Blaise 8k OCR or 16k OCR.
Once selected, just follow the sign up process through the various steps as you'll be required to input your information first for your Superhuman Games entry and then for your Battle at Blaise entry afterwards.
If you require any more specific information please feel free to email us at events@superhumansports.com
Please Note: Events are subject to licensing and Covid-19 restrictions.
"The overall atmosphere of both days. Everybody is always super friendly and encouraging"
★★★★★
"Well ran, great challenges"
"The organisation, the people the atmosphere, both events were really tough but so enjoyable and when you look at your medals at the end of the day you know that you have earned them. I can't wait for 2022 I will be signing up straight away."
"Love this event, please keep doing what you do :-)"
"Challenging but fun, very well organised"
"I have competed in Superhuman several times and your event never ceases to be awesome. Being able to work with a partner is just great and doing things outside your comfort zone. It was good that the obstacle race was separate to the Games which allows for another hardcore workout to be programmed. Thank you for making it go ahead in such difficult times."