The O2E Challenge
The O2E Challenge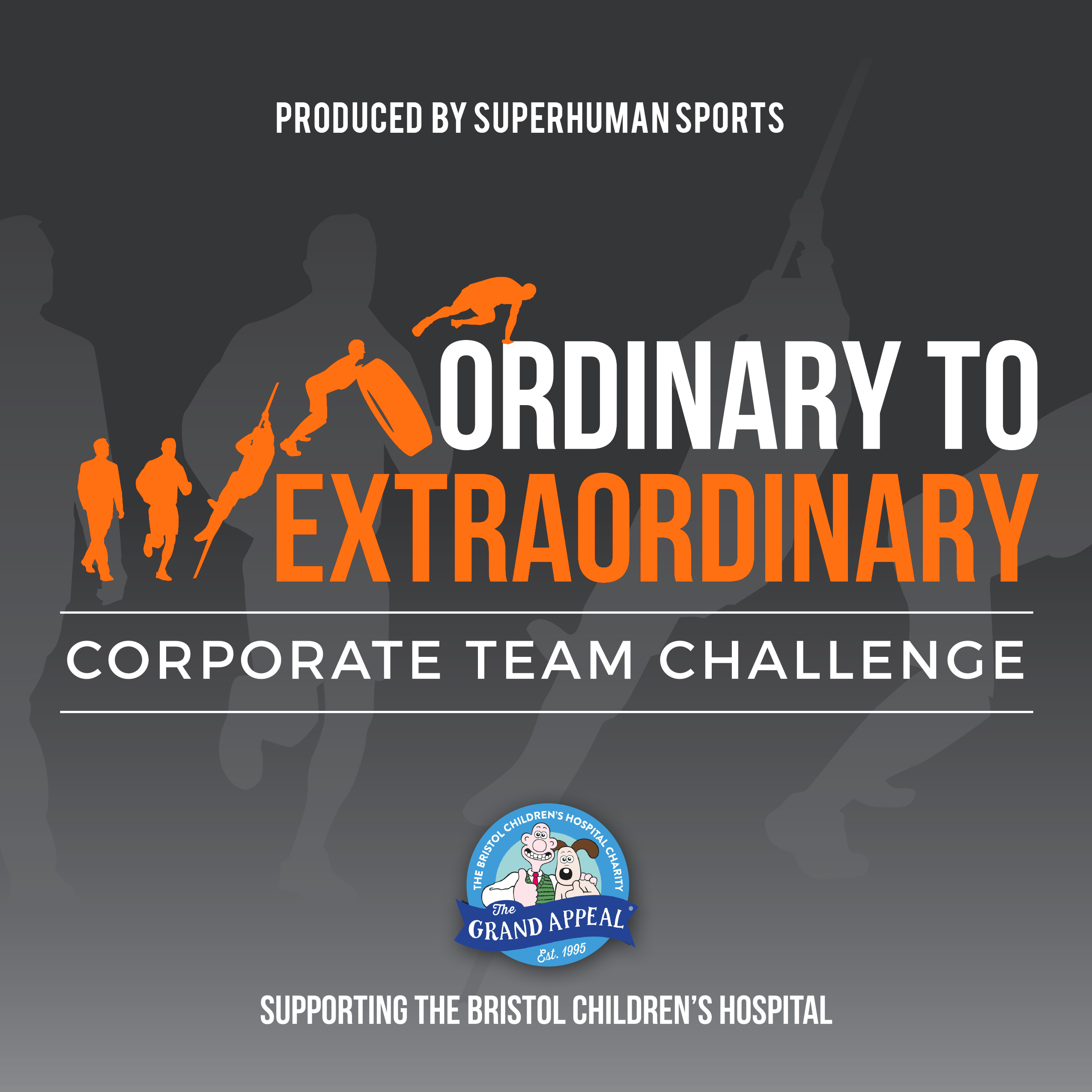 Friday 26th April 2024
£550.00 per person
Coming Soon
Ordinary to Extraordinary
The Mendips - Somerset, England
Fri 26th - Sun 28th April 2024
The O2E challenge is the ultimate corporate event where teams take part in THREE separate team collaboration fitness challenges, over ONE weekend!
The O2E Challenge is hosted in one of the UK's most beautiful and iconic locations, The Mendips!
Challenge One (Fri): Team Adventure Race at Dusk
Challenge Two (Sat): Team Paddle Board Race
Challenge Three (Sun): Team Tandem Bike Relay
Note: You can find out more about each challenge below
Throughout the weekend teams are provided with in-depth training sessions delivered by our team of fitness experts.
Our coaches give you all the specific tools, skills and training that you'll need..... but then It's over to you to devise your team strategies to ensure that you deliver your best performance in the live events!
Once you are registered, all team members are issued with a FREE TRAINING PROGRAMME to help you physically prepare yourself in the months leading up to the O2E challenge!
You don't need to be a professional athlete to take part in O2E, but you do need a positive attitude, a willingness to learn new skills and the ability to work as part of a team!
AND ...... On the final day of O2E when all the challenges are completed, teams celebrate together at our O2E BBQ!
Finisher medals, laughs, special awards, food, drinks and more laughs!
#HighFivesAllRound
Join some of the UK's biggest companies in creating a positive and collaborative company culture through the power of sport & fitness!
O2E is the ultimate corporate challenge and team building experience!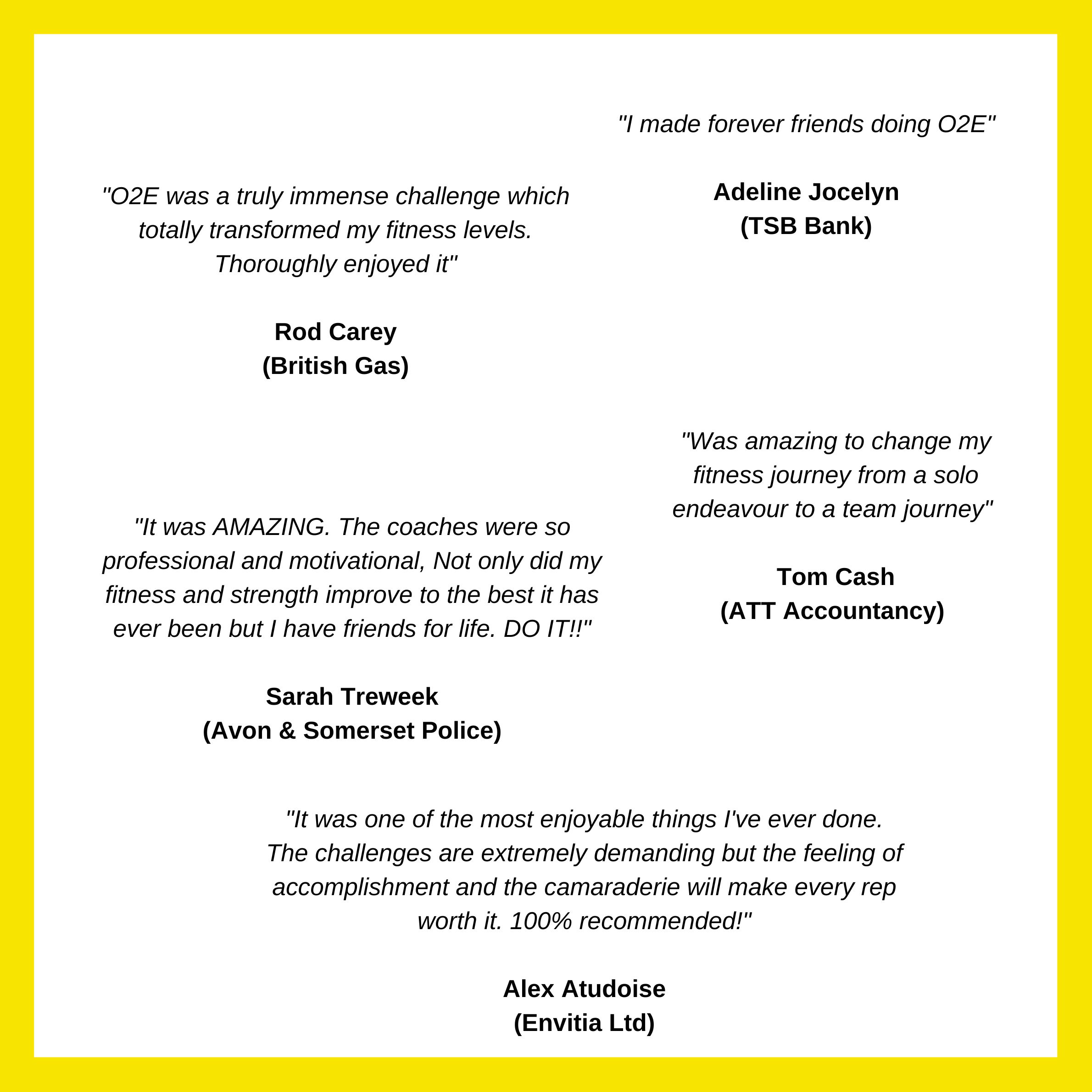 Team Adventure Race at Dusk
Trail running, orienteering and problem solving are at the heart of the O2E adventure race.
With a 4 hour time cap, teams will navigate the course from checkpoint to checkpoint over the beautiful Mendip Hills, completing the 'teamwork' focused challenges that we set for you along the way!
The challenge requires cardiovascular endurance, a positive attitude, and the ability to work as part of a team to achieve a common goal of getting over that finish line, together!
Team Paddle Board Race
3...2...1 Go Go Go!!!
Whereas the Adventure Race is an endurance focused challenge, the team paddle boarding is made up of time trials which is all about going hard & fast over a relatively short distance!
But don't be fooled, team strategy and technique will undoubtedly play a key role to your overall team performance in this event!
Team Tandem Bike Relay
Set in a beautifully scenic part of the Mendips at first light, teams will work together to complete the final challenge… The O2E Tandem Relay!
This challenge involves both endurance and sprint elements to really get those lungs (and legs) pumping!
FAQ
How many people per team?
Each team consist of 6 players
(3 Men / 3 Women)
Can we bring along multiple teams?
Yes, there's no limit on how many teams your company can sign up
How does the charity fundraising work?
5% of all team entry fees will be donated to our chosen cause 'The Grand Appeal' in aid of Bristol Children's Hospital.
In addition, all companies can choose a specific charity/cause that they would like raise money for and use the O2E Challenge as a method to do so.
We appreciate that many companies may already have their own chosen fundraising causes that they would like to work with, so many companies also choose to take part in the O2E challenge to raise even more funds for their cause that the 5% donation to 'The Grand Appeal', which we of course encourage (but it is not mandatory).
You can find our more about our chose cause via the link below;
https://www.grandappeal.org.uk/
Do I get an award?
Yes, all participants will receive team tops at the beginning of the weekend and an O2E finisher medal for completing the challenges!
How much does it cost?
Prices for 2024 TBC
What will the price include?
Entry to all 3 challenges
Food and accommodation all weekend
BBQ
8 week pre-challenge training plan
A weekend of coaching with our sport & fitness experts
Team tops
Finisher medals
Professional video & photo content for your social media channels
10% charity donation to our chosen cause
...And of course, a TRUCKLOAD of FUN!
Where do I sign!?
If your company is interested in taking part in O2E 2024, drop us an email at events@superhumansports.com and we will be sure to send you all the info as soon as we open up registration!
#SteelHeartIronWill
"The overall atmosphere of both days. Everybody is always super friendly and encouraging"
★★★★★
"Well ran, great challenges"
"The organisation, the people the atmosphere, both events were really tough but so enjoyable and when you look at your medals at the end of the day you know that you have earned them. I can't wait for 2022 I will be signing up straight away."
"Love this event, please keep doing what you do :-)"
"Challenging but fun, very well organised"
"I have competed in Superhuman several times and your event never ceases to be awesome. Being able to work with a partner is just great and doing things outside your comfort zone. It was good that the obstacle race was separate to the Games which allows for another hardcore workout to be programmed. Thank you for making it go ahead in such difficult times."