Battle at Blaise
Battle at Blaise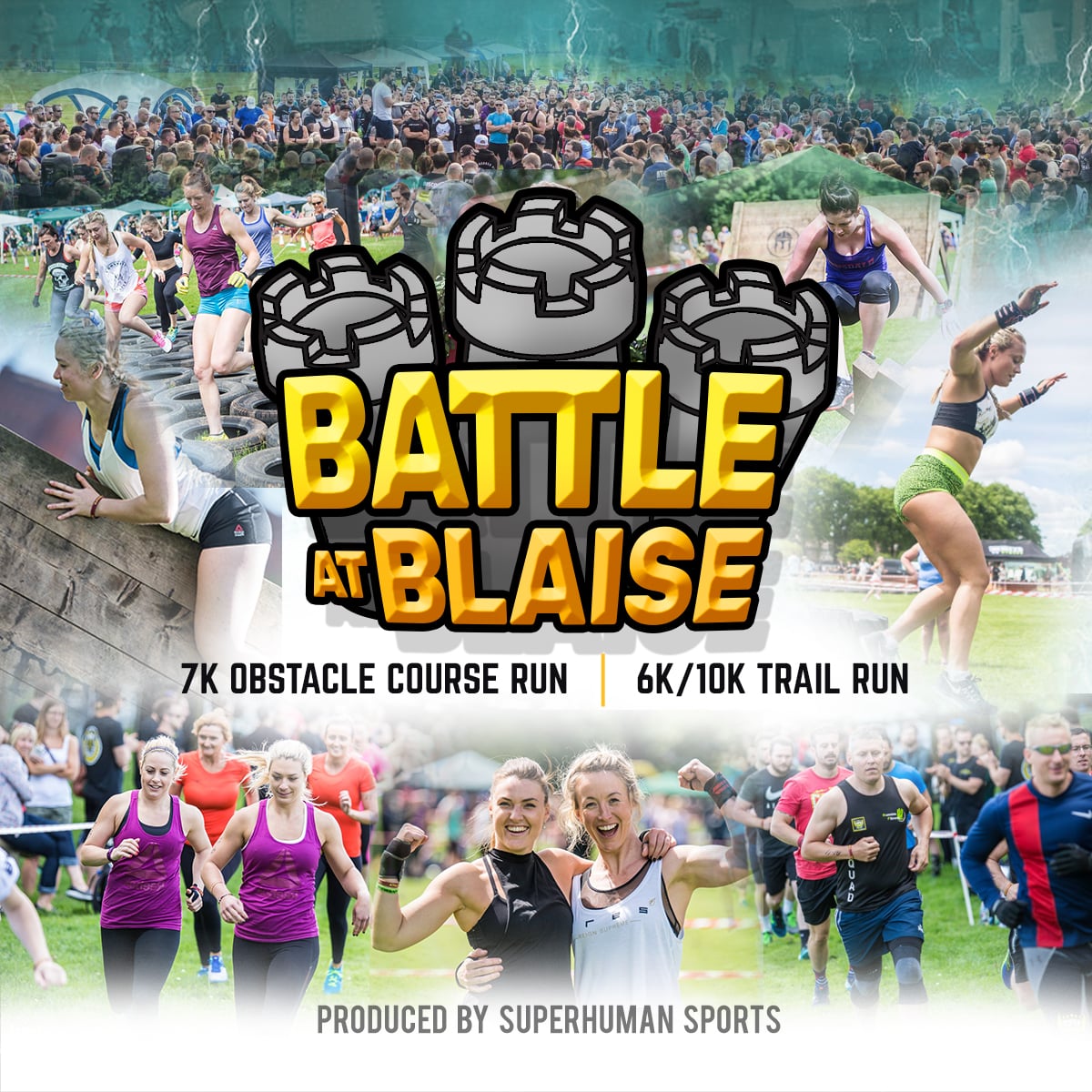 Saturday 05th November 2022
Upcoming Price Rises!
Monday 22nd August 2022
Sign up before this date to avoid paying more!
£60 OCR / Trail Combo
£50 OCR only
£25 Trail only
Blaise Castle Estate
Making full use of the amazing 650-acre Blaise Castle Estate, 'Battle at Blaise' is a unique experience for our worldwide fitness and run loving community.....an all out endurance challenge!
Push yourself to the finish line in a friendly and supportive environment..... Our running events always have an awesome sense of camaraderie and togetherness that will inspire you to push through to the end no matter what, whilst having a whole lot of fun doing it!
The 7km OCR event combines obstacles, trails and fitness challenges that have been specifically designed as challenging yet non-technical, making the event very inclusive and perfectly suited for all fitness abilities, from fun runners to seasoned OCR athletes, and even junior Blaisers!
If obstacles are not your thing, that's cool ..... We also have 6km and 10km all out trail running events that take you around an awesome route that showcases the very best areas of the stunning and historical Blaise Castle Estate.
Battle at Blaise events are all about getting over the finish line and experiencing the sense of achievement of completing this really epic fitness challenge, however we do also have competitive heats available for anyone that wishes to see how they fare up against their fellow participants.
Events;
7km Obstacle Course Run
6km / 10km Trail Run
Combo Ticket - Enter both events!
What to expect;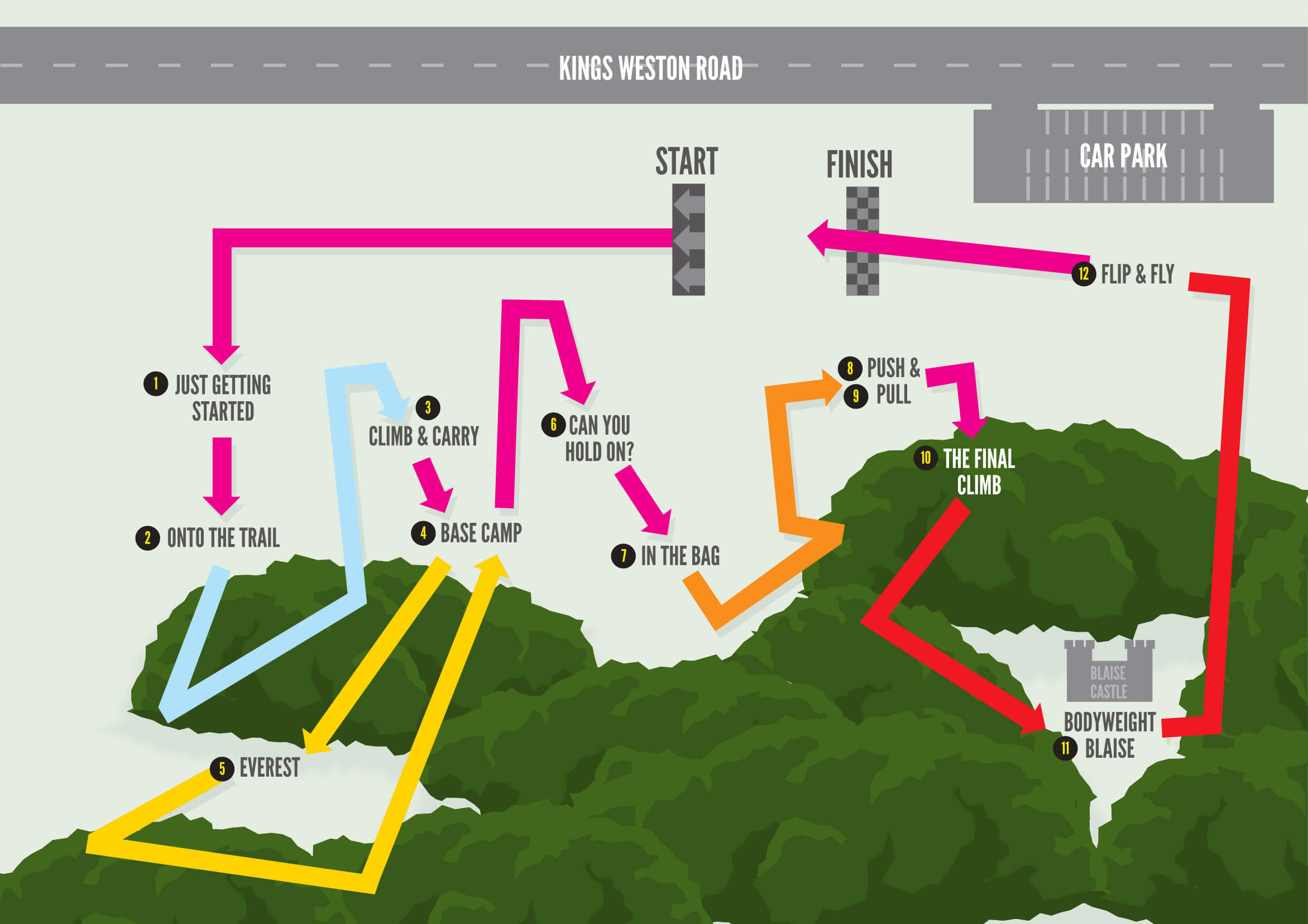 ---
1

Just Getting Started

When you hit the first challenge zone you'll dive straight into tackling a series of jumping obstacles before having your balance and co-ordination immediately tested on the balance beams and extended tyre run track!

A plethora of obstacles to waken up the senses ready for the long road (well, trails) ahead! 🤩

---
2

Onto the Trail

Next up, the first of our 4 epic trails! (follow the blue line)

Time to navigate nature at its finest ….

Bring on the trees 🌲

Bring on the mud 🐾

Bring on the lung buster 🥵
HERE WE GO!!!
---
3

Climb & Carry

First trail done, now time for our first Obstacle / Functional Fitness Combo Zone – you'll need to conquer a series of climbing obstacles coupled with unconventional carries!

Carries could include sandbags, tyres, logs, kegs or even a couple of your fellow competitors...

...only joking about that last one…that might get a bit weird! 🤨

---
4

Base Camp

Now that you've bested the old climb and carry, it's time to start your second trail (follow the yellow line)...and the grind begins with a looonnnng sharp incline! 🏃‍♀️
OOOOH YEHHHH BABY!
(We won't tell them about the backpacks, that'll be a lovely little surprise for them … shhhhh) 😈

---
5

Everest

A challenge at the summit and one that's guaranteed to get those legs feeling like you're climbing Everest! (Again) 🏔

Because friends don't let friends skip leg day…and we're definitely your FRIENDS…right? 👀

---
6

Can you hold on?

GET TO GRIPS (see what we did there? 😏) with our rowing machines and scaffold-based obstacles!

Yep, rowers AND scaffolding obstacles...where else would you get to do that?! 🤷

---
7

In the bag

Our shortest, flattest but spiciest little trail run!

Why spiciest we hear you ask quizzingly 🧐?

Well, because we always like to add a little bit of sandy spice to our hikes! 🏝

(follow the orange line on the map)

---
8

Push

Our second Obstacle / Functional Fitness Combo Zone!

Consider it the bigger brother of old Climb & Carry!

Be ready to test your odd-object lifting strength but also your ability to move your own bodyweight! 🤔

---
9

Pull

The perfect way to balance out all of the pushing that you've just done!

Same structure, different focus! Same good time! 😎

---
10

The Final Climb

Our FINAL but most challenging trail that takes you all the way up to Blaise Castle! 🏰

(follow the red arrow on the map)
---
11

Bodyweight Blaise

At the base of Blaise Castle, you'll have to conquer our very own outdoor Room of Doom, a room filled with all of the FUN!

Expect bodyweight exercises like Bear Crawls, Broad Jumps and of course…Burp (don't worry, we can pretend that they aren't included for a bit longer!) 🤫

---
12

Flip & Fly

Our final test which combines some Superhuman classics with some brand-new obstacles! 😍

OOOO we can't wait to show you what we've got in store for the finale!! 🏆 🎉 🎊




Parking: Parking spaces can be reserved online closer to the event date.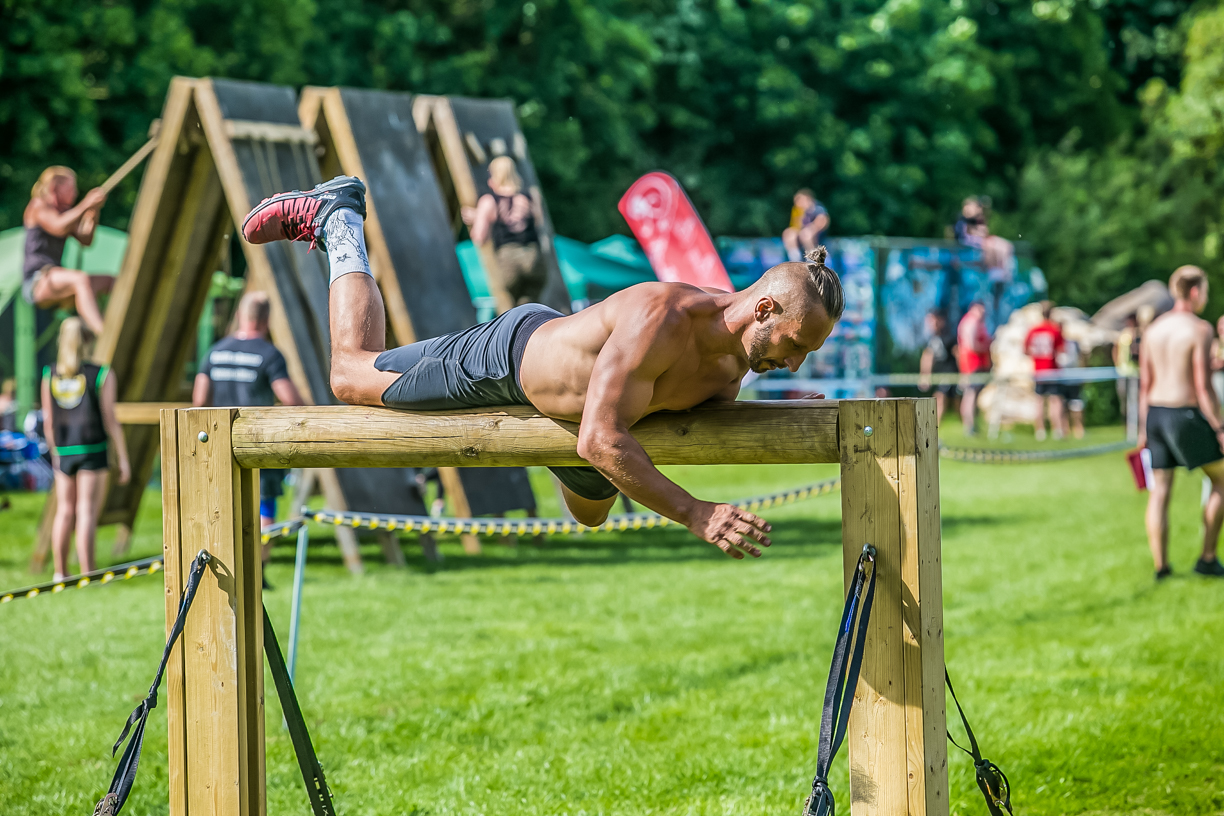 Please Note: Events are subject to licensing and Covid-19 restrictions.
"The overall atmosphere of both days. Everybody is always super friendly and encouraging"
★★★★★
"Well ran, great challenges"
"The organisation, the people the atmosphere, both events were really tough but so enjoyable and when you look at your medals at the end of the day you know that you have earned them. I can't wait for 2022 I will be signing up straight away."
"Love this event, please keep doing what you do :-)"
"Challenging but fun, very well organised"
"I have competed in Superhuman several times and your event never ceases to be awesome. Being able to work with a partner is just great and doing things outside your comfort zone. It was good that the obstacle race was separate to the Games which allows for another hardcore workout to be programmed. Thank you for making it go ahead in such difficult times."
"Exceeded my expectations"
"Didn't know what expect as it was my first OCR and I loved it!"
"It was different, brutal and challenging."
"It was a fantastic day, I would happily do it again"
"The OCR was very well organised and although challenging at times (The Room of Doom still gives me the shivers) it was great fun."
"Loved the event as a whole and can't wait for next year!"
"Well organised, great atmosphere, great course."
"Was a fantastic OCR with so many challenges and obstacles packed in"